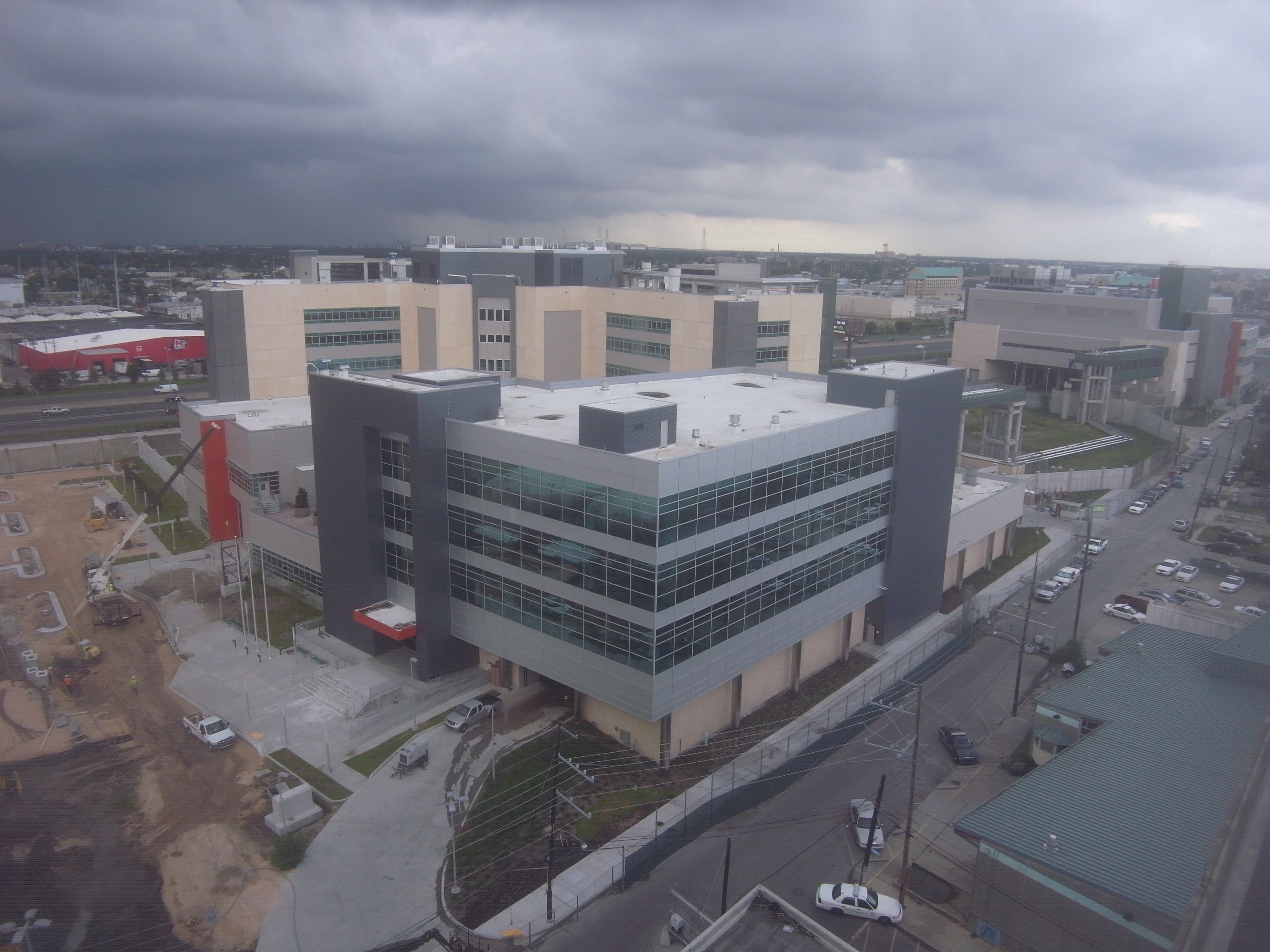 OPSO's Intake & Processing Center/Templeman III & IV Replacement
OPSO Re-Entry Program
OPSO to Host Family Night at Re-Entry Center
Research shows family involvement promotes successful re-entry
WHAT:
The Orleans Parish Sheriff's Office (OPSO) will host a family night at its Southeast Regional Re-Entry Center, opening the facility to the families and friends of inmates in the Re-Entry Program.

The Re-Entry Center, which started at OPSO in 2010, teaches inmates the skills and tools necessary to succeed as hardworking members of the greater New Orleans community. Participants have undergone education, employment, substance abuse and anger management classes in addition to individual and group counseling sessions to aid in their successful re-entry.

Family night events were created for inmates to receive support from relatives during their 90 day re-entry journey. Re-Entry inmates gather in an OPSO auditorium where they share a meal brought in by family members. In addition to counseling and training, establishing stronger relationships with families is shown to promote positive re-entry outcomes, including the likelihood that re-entry participants will get out and stay out of jail.
WHEN:
5 to 7 p.m. Thursday, October 1, 2015
WHERE:
819 South Broad St.
WHO:
Orleans Parish Sheriff's Office (OPSO)
NEW ORLEANS - 9-9-2015
The Orleans Parish Sheriff's Office has achieved "significant progress" toward compliance with the consent judgment, increasing its partial substantial from 35% to 66 %, while reducing its non compliance from 65% of requirements to only 25%.
"The Sheriff's Office is steadily moving toward compliance and we expect to make even more progress toward compliance as we move to the new inmate housing facility in the coming days," said Sheriff Marlin N. Gusman.
Sheriff Gusman said the Sheriff's Office has made major improvements including attaining the highest number of substantial compliance requirements to date, as well as hiring Carmen DeSadier as Chief of Corrections. Monitors noted the Sheriff's Office has a better organization and process for investigating use-of-force incidents. "The progress shown by the Investigative Services Bureau . . . in improving the quality of investigations continues to impress the Monitors," the report said.
Monitors praised medical and mental health care for inmates. "More work needs to be done, but the level of care has improved dramatically since Correct Care Solutions, Inc. (CCS) began providing services to perhaps, the most physically and mentally ill population in Orleans Parish," the report said.
The Sheriff's Office has also implemented a verifiable inmate classification system. "The classification function is appropriately resourced," the monitors' report said. "OPSO is acknowledged for its hard work to get this done."
The monitors commented favorably on the independent budget prepared by the Court's Budget Committee, which validates the budget the Sheriff's Office submitted at the outset of the city's budgeting process.
Monitors also gave the Sheriff's Office credit for:
Maximizing the use of the Hunt facility for inmates with acute mental illnesses;
Adopting new policies and procedures; and
Improving management of inmate food services.
In the coming months, Sheriff Gusman said he is focused on the operation of the new jail and removing barriers to full compliance. He reiterated his called for an increase in deputy pay to make it more competitive with other law enforcement agencies.
"I want to thank our staff for taking on these big challenges and either meeting or exceeding expectations," Sheriff Gusman said. "We are continually expanding the team and the tactics that will bring this office into full compliance with the consent agreement," he said.
Victim Notifications & Programs
Crime Victims Programs
Victim Notification
ICE
Notification System
Crime Victims
Reparation Program
Elderly Victims
Assistance Program
Louisiana Victim
Notification System
Public Bids
Top Headline
Other Headlines
If you have a medical question about an inmate, call the Medical Inmate Advocate at 504-822-8000, ext. 4134.
The Medical Inmate Advocate is an experienced OPSO nurse who will investigate your concern and call you back. If you wish to provide medical information about an inmate, call the Medical Inmate Advocate. Medical confidentiality is maintained, but your concerns will be addressed.
Programs for Public Benefit
Harmony House
The OPSO Harmony House addresses the needs of parent, child, the courts, and the communities of New Orleans and the surrounding metropolitan areas by providing a safe, supportive environment for Supervised Visitation and Monitored Exchanges with equal regard for parent and child safety.
Young Marines
The OPSO chapter of the Young Marines is in partnership with the national Young Marines program. Youth under the age of 18 enroll for drill, games, field trips, and education.
West Bank Major Crime Taskforce
Deputies assigned to this task force focusing on major crimes and narcotics enforcement on the West Bank.
United States Marshals Task Force
OPSO also participates in US Marshal task force activities, focusing on the apprehension of violent criminals in the Greater New Orleans Area and monitors registered sex offenders in Orleans Parish.
The Great Body Shop
The Great Body Shop program is a school-based program which covers drug prevention, health, bullying, emergency situations, nutrition, and other topics for youth from kindergarten through twelfth grade. Materials and training are available from OPSO.
Sheriff Marlin N. Gusman's Supervised Visitation Center
This program is in partnership with Harmony House and provides non-custodial parents a safe drop-off and/or visitation area.
Juvenile Curfew Center
OPSO maintains the Orleans Parish Juvenile Curfew Center in conjunction with the New Orleans Police Department. Youth under the age of 18 are brought to the facility when they violate City of New Orleans curfew laws and are held in a non-secure environment until a parent or guardian arrives for them.
Elderly Victim Assistance and Victim's Assistance
This program is in partnership with the State of Louisiana Victims Assistance Board and provides limited funding and assistance to elderly or non-elderly victims of crime.
Drug Abuse Resistance Education (DARE)
DARE is a school-based drug awareness and prevention program for youth. OPSO's main focus is sixth graders through high-school.
Criminal Patrols
This program focuses on outstanding warrants for violent crimes. Persons wanted for violent crimes are targeted and arrested for public safety. This program is grant funded in partnership with the Louisiana Commission on Law Enforcement and focuses on proactive crime prevention in high crime areas and the apprehension of wanted fugitives.
Presentation to Mayor's Committee
Criminal Justice Working Group


City Council Presentation
2015 Budget Presentation